1954 Packard Cavalier Restoration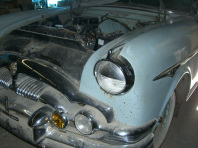 1954 Packard Cavalier, Original
1954 Packard Restoration - There is no better way to bring in the new year than with this beautiful original 1954 Packard Cavalier. It came to us after being parked for 40 years, not running and needing a lot of attention. We are
thrilled
to be restoring this Packard and getting it back on the road !
To learn more about the Packard Cavalier, click here.
---
Rebuilding the Famous Gear-Start Ultramatic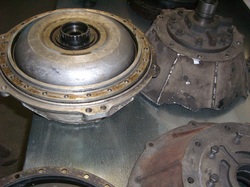 1954 Packard Gear-Start Ultramatic
Packard Ultramatic Rebuild - The transmission going out is likely the cause of this Packard being parked so many years ago. With the goal of keeping everything original, we are meticulously finding the best parts around to rebuild this ONE YEAR ONLY Packard Transmission. Fortunately, being the car nuts we are, we happened to have a few of these rare transmissions hanging around the shop.
If you're interested in learning more about this transmission - click here to link to a 1954 Packard Gear-Start Transmission service manual.
---
1954 Packard 327 Thunderbolt Straight Eight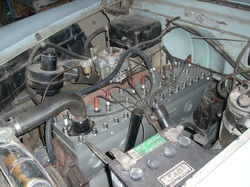 1954 Packard Thunderbolt Engine
Packard 327 Thunderbolt, rebuilt and running like a champion.
Note: The rebuilt and repainted engine will be cleaned and detailed before being delivered, please excuse the dust.
To learn a little more about this engine, click here to link to a blog about the famous THUNDERBOLT.
---