1967 Ford Galaxie XL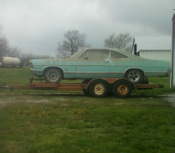 We are excited to be working on this fantastic piece of history, it is a great barn fresh classic Ford! Check back often to see our progress as we add more photos.

---
Check Out the Video's and Pictures Below

The first video allows you to see the condition of the engine when we received it. You can hear it miss, see the engine shake, and also see the live scope pattern showing the missing cylinders. After running a few quick tests it was very clear that this original 116k 390FE engine needed a major overhaul.

Video number two shows a quick glance at a vacuum gauge hooked to the original engine. A healthy engine will have a steady needle, clearly the needle in this video is less than steady.