WE REPAIR AND REBUILD PACKARD ULTRAMATIC TRANSMISSIONS, 1951-1956

CONTACT US NOW FOR PRICES AND TO SEE WHAT REBUILDS/PARTS WE HAVE ON HAND.

Rebuilding the Famous Gear-Start Ultramatic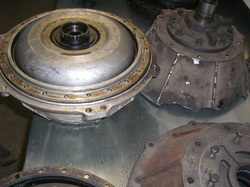 1954 Packard Gear-Start Ultramatic
The transmission going out is likely the cause of this Packard being parked so many years ago. With the goal of keeping everything original, we are meticulously finding the best parts around to rebuild this ONE YEAR ONLY Packard Transmission. Fortunately, being the car nuts we are, we happened to have a few of these rare transmissions hanging around the shop. Rebuilding Packard Ultramatic transmission's is a service we are very proud to provide.
If you're interested in learning more about this transmission - click here to link to a 1954 Packard Gear-Start Transmission service manual.
---